FUN BOOK FACTS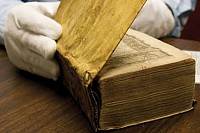 A book owned by Harvard University library recently revealed its grisly history, when confirmed that it was bound in human skin.
Staff at the university believe that the book, Des Destinees de l'Ame (Destinies of the Soul), was covered with the skin of an unclaimed female mental patient who died of natural causes. Writer Arsene Houssaye is said to have given the book in the mid 1880s to his friend, Dr Ludovic Bouland, who apparently carried out the unusual binding.
Covering books in human skin, known as anthropodermic bibliopegy, was a particular subject of interest in the 19th Century, although it is understood the practice goes back further.
(Source: Wikipedia)